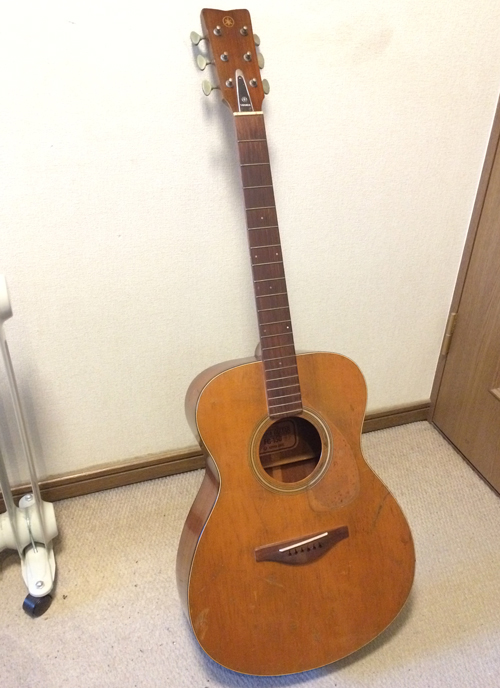 The guitar I had a parent buy for the first time around a junior high school student was a folk guitar of a small body at 7000 yen of the brand name "Nagoya Siziki".
Riches's friend T.K had a folk guitar of Yamaha then. If it "was to hear quite good sound", I thought of 、. But I was too expensive, and couldn't buy it.
FG-150 of Yamaha "red label" was exhibited cheaply by a certain auction by chance several years ago, so it has been bought unconsciously.
The appearance was in the state with a lot of dents and scratches. A pickguard had been taken from the body.
A serial number is 7 digits, 137XXXX.
I removed a peg from a guitar, broke apart and cleaned.
I also polished a fret by abrasive using a masking tape.
I reproduced the peculiar shape of the FG series, and reformed a pick guard.
I shaved a saddle a little and adjusted the height of the handle low.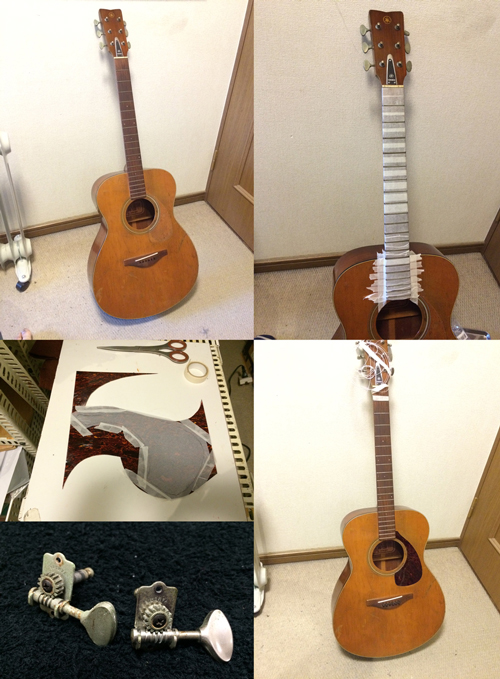 I stuck a handle on a guitar. That a peg is being tightened for tuning, "What? For this sound?", body of a guitar resonated so that I was surprised.
I hit a body, then. Reverberant sound sounded lengthily.
Surprise!
It's big when I'll play the guitar, the sound which continues lengthily has come out.
It's just different from the tone of Martin's dreadnought guitars.
The thick tone of the core with a peculiar dynamic microwave.
The very good sound which has no cases that the sound heard that I was good at playing all this guitars by a laminated board by other guitars to say.
That was the moment I realized that FG-150 "red label" was wonderful.
Since finding FG-150 since that, I came to get in spite of the state and play.
The article to which sound is most affable from 1966 about FG-150 is often read, doesn't it depend on individual?
FG-150 in the various times was played including a light green label, as expected, I'd like the tone of this individual by far.
When saying a case of a FG guitar, it's this rocket case as expected.
This case was also bought at a certain auction.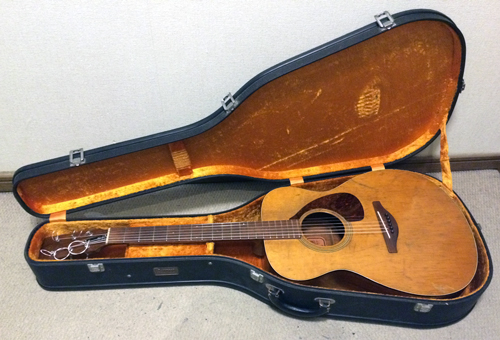 Yes, attracted Yamaha FG!
I become somewhat happy, and open and tighten a case, and look at inside FG-150.
It isn't played, I'll open and see rocket case sometime on a day, and it's warm feeling.
There is a movie of a concert by this guitar and FG-150 guitar bought in the 2nd.