I played Yamaha FG-150 by recording of some song, so I do how to play and recording explanation.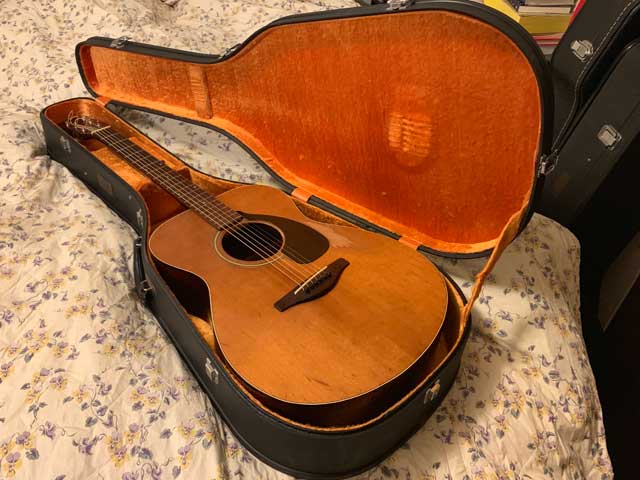 Used one is YAMAHA FG-150 S/No,569XXX (1966 year model).
The first half of a song was arpeggio and a rust part made a stroke bullet creak.
A dash sense and a ringing sense have whether FG− 150 is the purpose with the small size, and I think it could be recorded well.
A use microphone is a evacuated tubular condenser microphone of immediate early of Seide company as SeidePC-VT1.
A guitar and a song are being recorded by this microphone.
A main PC is Mac Mini Mid2011. A graphic chip only broke suddenly the other day, and it was repaired.
I learn a lesson from that and am completely making another PC of the same specification stand by sparely.
An application of a PC is DigitalPerformer8, and a plug-in uses Waves and PowerCore TCElectric mainly.
It has come off the mainstream already, but the line-up around here is the tool I tend to use best for me.
A monitor loudspeaker is Fostex FE-103 and a sub-woofer of Denon, most is a headphone,SONY MDR-CD900ST, sound making.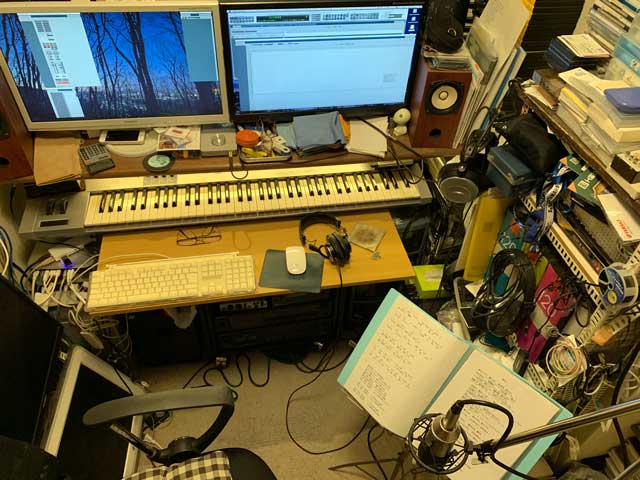 About 2 mats of desk work space where a room has time the living room and the bedroom on a hallway, so it's so small that I reach two walls, there are no every problems with betting a headphone in late at night and traveling vast musical space.
Now, then please see the production explanation for which FG-150 was used actually.
Thank you very much for your explanation movie watching.
You can listen to all part of recording, please see below movie.
After a big earthquake in 2011, Tohoku-district is being revived slowly. An beachfront rail line was restored finally on 23rd March 2019. Summer will pass to do sightseeing for a northeastern littoral person to help rehabilitation. A very beautiful sea is waiting.